Annapurna Circuit Trek is a trek, which follows the trail to Thorong La 5416m and the holy land Muktinath. The classic Itinerary of the Annapurna Circuit Trek starts from Besisahar. Nonetheless, nowadays it starts in several places as trekkers want. It is because of the road to Manang. Although, the popularity of this trek is still the same. And each year thousands of tourists will trek there. As a trekking guide, I found, there are huge amounts of differences after the road in this region.
Panoramic vistas of the Mt. Annapurna range, Gangapurna, Lamjung, and other peaks like Pisang Peak, Cholu range. Traditional villages like Chame, Pisang, Nawal, Braga, Manang, and Khangsar. Buddhist monuments such as Mani Walls, Stupas, and Monasteries are the other beauty of the Annapurna Circuit Trek. The villages between the giant peaks and cliffs are very unique and unbelievable. The itinerary of ACT is different as a trekker chose to start hiking.
Annapurna Circuit Trek itinerary can combine with other popular trekking trails. Such as Nar Phu Trek, Tilicho Lake Trek, Upper Mustang Trek, Khopra Danda, Poon Hill, ABC Trek, and Mardi Himal Trek. It all depends on the time of the trekkers. Do you have more time and want to be more time with nature then you can add ACT Trek with any other treks.
Day 1 Drive from Kathmandu to Besisahar and Jagat (1300m)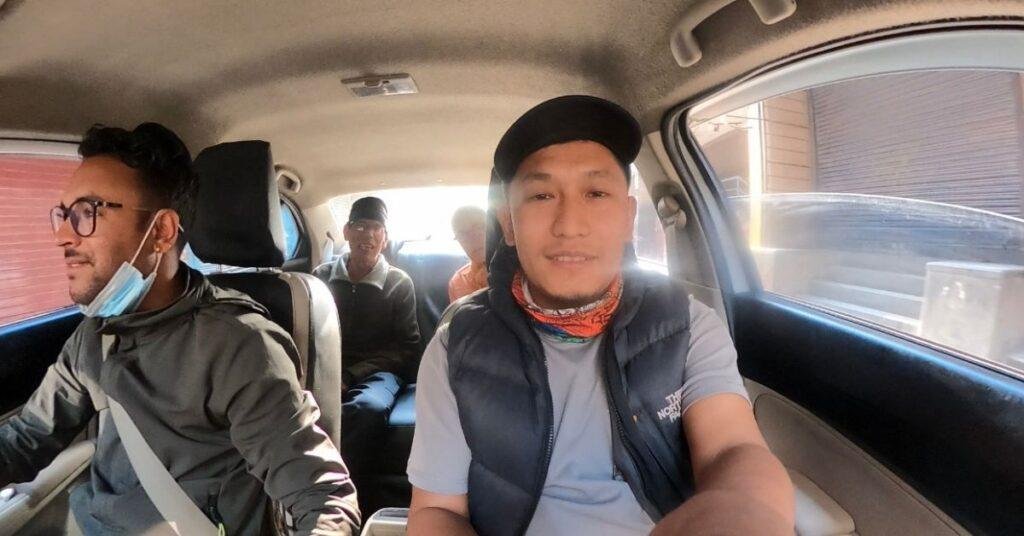 I and our porter went to Hotel at 7:30 am because we planned to drive to Besisahar at 8 o clock. When we reached in Hotel our guest was ready and we waited for the car to get there. After 15 minutes of waiting, the car arrived there and we packed our luggage and get in the car. Our Annapurna Circuit Trek commenced and today was our first-day journey to Pokhara.
In the beginning, we chatted with each other and after some time we were all in the stage of sleep. Suddenly the car stopped and that was the place for breakfast at Naubesi Dhading. We didn't eat breakfast there because we ate breakfast in Hotel but we drank a cup of coffee. After some time our road trip continues to Besisahar and we planned to eat lunch at the Besisahar.
As per our itinerary for this trek, we reached Beisahar and ate some delicious food. While waiting for the food we packed our luggage in the Jeep and ready to go after the meal. Because we have to take a jeep from Besisahar to Jagat. After eating there we got into the Jeep and our real Mountain drive started. The road was bumping and jumping.
While we were driving to Jagat we stopped around an hour midway because one jeep was unable to start. The wait was finally over when one of the drivers used his ideas and start the jeep. Ultimately, we reached Jagat and stayed overnight in the North face Hotel.
Day 2 Jagat to Taal (1700
Today was our first walking day of the Annapurna Circuit Trek Itinerary and we plan to walk at 7:30 am. We ate breakfast at 7: am and after breakfast paid our bill and started to walk to Taal village. Today's walk is a half-day walk so that we walk slowly but continually via Chamje Village. Nearby Chemje village we enjoyed the amazing waterfall view and honey hive view. And then from Chamje, we left the road on the left side and walk on a proper trekking trail.
The normal trekking trail is not used that much nowadays. Because people want to have an easy trail to walk not only that, there are other reasons too. The first reason is that the octopus waterfall is on the roadside. And can enjoy the amazing view of that when people walk from rood side. Although that waterfall can see from the proper trekking side too. But we chose to walk on that beautiful trekking trail and avoid the road for today.
After around 4 hours we reach the Manang gate nearby the Taal Village. We took some photos there with the gate. But the view of the Taal Village was not that nice. Because Taal village was damaged by a catastrophic flood during the monsoon season. Then we continue our walk through the village and that flood was very cruel and took everything. Hotels, guest houses, restaurants, normal people's houses, schools, and local shops.
We stayed at the Paradise hotel and in the afternoon time we explore the village. And see the flood's angriness. Walking on the bank of the river and the beautiful waterfall nearby the guesthouse was nice to see. Ate dinner at 7 pm and plan for the next day before we sleep.
Day 3 Taal to Timang (2750m)
As we planned we had breakfast at 7 o clock morning and before breakfast, we packed our luggage. After breakfast, we paid our bills before we walk and crossed the Marsandi River just nearby the guest house. Because of the flood, the old route and old bridge were damaged completely, and no way to walk there. Then we follow the trail to the road and after around 20 minutes of climbing, we reached the road to Manang.
From the road, there is an easy trail to walk and we have to follow the road all the way to Timang village. Our first stop was at Kotre village where a few guesthouses were still standing. And then our journey continues to Dharapani village. Where we stopped for a cup of tea and registered our trekking permit and TIMS card.
Today was our third day of the Annapurna Circuit Trek schedule. after the tea break and permitted to walk, we continued to walk for lunch camp. We ate lunch at Dhanaqua, it is a small village with few guest houses. From there we have to climb up to Timang Village and it took us around 2 hours. When we reached the weather is not so good, it was quite cold because of the cloudy surroundings.
Day 4 Timang to Chame (2660m)
Day fourth walk during Annapurna Circuit Trek Itinerary from Temang to Chame. It was a short but beautiful day to walk. We know that today we need to walk short so that we started quite late, also there was a bit cold than in other places. We eat breakfast at 8:00 am in the morning and around 9 am we started to walk.
In the beginning, there was no side walking trail so we followed the road. Walking on the road is a bit easier than a proper hiking trail yet the problems are jeeps, bikes, and dust from them. Pip pip horns are another thing that made me crazy while walking on a peaceful mountain.
In the first part around an hour, we walked on the road and took a long break before walking on the proper trail. Traditional trekking trails of the region are going to vanish. Because even the local people are also not walking there. Trekkers are also not coming for the last two years because of the coronavirus. And some trekking guides are also not taking trekkers from the walking trail.
We drank a cup of tea and ate some cookies at Thanchok. And continued our journey to Chame. Again after some, we met for the road and continued to walk to Koto. At Koto we stopped to register our trekking permit at the Police check post.
Along the way, we showed the giant snowy peak LANJUNG Himal and that encouraged us to walk faster. From Koto it took around 45 minutes to reach Chame. And finally, we reached Chame and ordered lunch before we went to our room. Be freshen up, eat lunch and explore the Chame village. Overall, day 4 of the Annapurna Circuit Trek ended beautifully.
Day 5 Chame to Upper Pisang (3300m)
Today is the day 5th of the Annapurna Circuit Trek Itinerary and we walked from Chame to Pisang. When we woke up the weather was so clear and perfect to walk so that the Lamjung Himal was just in front of us. We took some amazing shorts before eating breakfast. Our plan was to begin or start our journey at 8 am in the morning.
After breakfast, we started our trek to Pisang and crossed the Marsandi River. Then followed the road as other trekkers walk. We continued to walk on the road and then walk into the pine forest. And the bank of the Marsandi River before reaching Bratang. Bratang where is the biggest apple farm in Nepal.  We also tested the Apple juice and Apple pie from there and it was so Yammy.
Almost 99% of trekkers stopped there for something to eat. Because you can have the best Coffee in the town and Apple items such as Apple Pie, Crumble Donuts, and many more. Even you can have fresh Apples from their Garden during the summer season. And other seasons Apple will from their store.
After juice and Apple pie we continue our trip again on the road. And then after some time we crossed the bridge and walked on the proper trekking trail. Climbing up for around one hour and again we have to walk on the road to Dikur Pokhari. At Dikur Pokhari we had lunch and after some time we followed the trail to Upper Pisang.
From Dikur Pokhori it took around one and a half hours to reach Upper Pisang. After checking into Hotel we visited the Monastery and there was a ceremony going on. We saw the Puja for some time and then back to Hotel. We had a great day fifth of the Annapurna Circuit Trek Series.
Day 6 Pisang to Manang (3540m)
As our plan was to go via the upper trail to Manang from Upper Pisang, so we followed on the way to Ghyaru. We ate breakfast at 7:30 and started to walk around 8:15. The first part was on the shadow and a bit cold so we didn't stop anywhere. Just walking and walking but we were enjoying the walk and views of the surroundings.
After crossing the suspension bridge; we stopped because we need to take off our warm clothes. We took off warm clothes and then climb up to Ghyaru in the ZICZAJ way. There was a new trail to walk and some part of the trail was so steep to walk that we took a couple of breaks to reach Ghayru.
We enjoyed the spectacular vistas of the snowy mountain peaks from Ghayru. And dramatic landscapes of the surrounding and the Marsyandi Valley. We took some amazing photos from the viewpoint and after that drank a cup of coffee in a nearby restaurant.
From Ghayru we followed the trail to Nawal and enjoyed the amazing views of the Annapurna range. And after a couple of breaks, we reached Nawal Village. Nawal is a traditional Himalayan settlement and also it is the Nar Phu Trek ending point. We had lunch in the Himalayan hotel. After lunch, we explored the Nawal village before continuing the trek to Manang.
From Nawal, we decent and followed the road and continued on the road to Manang. During the walk, we crossed villages such as Mundi and Braga. Today was a long but beautiful day for the Annapurna Circuit Trek Itinerary. And we have the rest day the next day.
Day 7 Manang Rest Day / Acclaimatize Day
After 6 days of walking one rest day is the nicest day while doing Annapurna Circuit Trek. Even on the rest day, we planned to hike up to the Parken Gumba and Parken Viewpoint. As per our plan, we started to hike up at 8 am in the morning from Manang. The hike was fascinating because we were enjoying the view of the entire Manang village. And the panoramic view of the Annapurna Massif and other peaks.   
While climbing up to Parken Gumba we passed some attractive Buddhist Stupas. The walking trail to the Monastery was well-managed. Still, in some parts, it was difficult to walk because there are not many trekkers walking. Due to the coronavirus pandemic. After around an hour of climb, we reached Parken viewpoint. From this viewpoint, we enjoyed the best mountain view of the whole ACT Trek.
After enjoying the picturesque mountain view our journey continued to the Parken Gumba. Ultimately, we reached the Monastery. Where living an old lady Lama. She blessed us with a successful trip and offer us a cup of tea and cookies. We spent around an hour there talking with the Lama and then walked down to Manang.
After backing down from the monastery we cleaned ourselves. Also, we washed our clothes for the last 6 days and explored Manang village. Normally, during the rest day in Manang people walk to Gangapurna Lake and the viewpoint. And some people hike to Ice Lake or Milarepa Cave too. There are many day hiking trails from Manang while during Annapurna Circuit Trek
Day 7 Manang to Yak Kharka (4050m)
Till Manang is the road so that jeep and bikes are running there and the horns and dust come from them are very awful. Luckily there is no road from Manang to Yak Kharka. So that the walk going to be a pleasure and pleasant. However, still, the first part of the walk was on the road but we started to walk in the morning time. Therefore we didn't find any jeeps or bikes.
Our first resting place was at the Tanki Manang and from there we show people going to Tilicho Lake. Tilicho Lake is popular as the world's highest Lake and people go there by doing Tilicho Lake Trek. This time many trekkers take down their itinerary to go to Tilicho Lake. Because the lake was frozen and not nice to see and people don't want to just climb there.
After a long break at Tanki Manang, we continued our Annapurna Circuit Trek Series to Yak Kharka. Walking up to Yak Kharka from Manang the first hours are always tough because need to ascend and ascend. After some time we reached Gunsala and took a tea break. And there were other trekkers too taking breaks and drinking a cup of tea.
From Gunsala the walking trail become Nepali flat. By turning back we enjoyed the majestic view of the Annapurna two and three. And also we showed the gazing blue sheep while walking to Yak Kharka. We reached Yak Kharka for lunch and as per our Annapurna Circuit Trek schedule, we stayed there.
Day 8 Yak Kharka to High Camp (4850m)
Today was a quite heavy day for our Annapurna Circuit Trek Itinerary before passing Thorong La 5416m. As per our plan, we started to walk around 8 o'clock in the morning from Yak Kharka. The walking trail was gradually up and we continue to walk on that just in the beginning there was an icy trail. And there was a bit difficult to walk for everyone. And we have an experienced team so we easily passed that difficult part.
Then our journey continued to Lether and after some time we reached Lether. We took a short break there and again continued our walk to our destination. Along the way, we show the herd of blue sheep gazing at their own and that was nice to see. The weather was clear and we enjoyed our walk to the high camp. While we walking we met many Nepalese and foreign trekkers going to Phedi and High Camp.
After crossing the suspension bridge we reached the sunny part and we took a long tea break at the tea shop. That tea shop's owner was viral on Youtube for chasing British women. And after the tea break again continued to walk to the Phedi and we were extra careful to walk in the landslide area. In Phedi, we ate lunch and took a long lunch break before climbing to High Camp.
From Phedi, we climbed up to High camp and which took us around one and half hours. And checked in at the High Camp hotel and we drank a cup of tea and coffee. After tea, we climbed the viewpoint and which took around one hour. And when we back to the hotel there was full of people and we have to share a room with other trekkers. We ate dinner quilt earlier than usual because we have to wake up and walk early in the morning.
Day 9 High Camp to Muktinath (3700m) via Throng La Pass (5416m).
In the high camp hotel, there were more than 50 people who were planning to pass the Thorong La 5416m. Most of the people plan to have breakfast between 4 to 4:30 am and our time was at 5 am. I woke up earlier than our plan because other guides woke up on their schedule. Who was sleeping together in a room? I checked my guests and they were also waking up and packing their luggage, and I helped them to pack their luggage. Then we ate breakfast at 4:45 AM and started to hike at 5:10 am to Thorong La.
Early in the morning walking with a flashlight. Walking in very cold weather was very tough but we continue slowly. We found people were having a hard time walking up because of the high altitude and cold. Along the way, we didn't take any long breaks just continue to walk toward our destination. And finally, at 8:30 am we reached Thorong La Pass 5416m. We spent around 15 minutes on the top and then continue to walk down to Muktinath. Walking down was a bit tough because of the snow and steep down.
We had vegetable noodle soup at the Phedi. And took quite a long time before embarking journey to Muktinath. We reached Muktinath after one and a half hours from Phedi. Muktinath is a holy land and getting more modernized as well. Because there are many hotels, guest houses, banks, and ATMs. In the Mustang region, there are banks and ATMs only in Jomsom and Muktinath. Yet, there are some private bank branches in Tsarang and Lomanthang too.
Overall today we walked around 10 hours to get to Muktinath. And today was one of the hardest and most beautiful days of the Annapurna Circuit Trek Itinerary.
Day 10 Muktinath to Jomsom (2720m)
Firstly, we woke up and visited the Muktinath temple, and back to the hotel for breakfast. After breakfast, we descend to Jharkot, when we reach Jharkot we got an opportunity to observe a ceremony in the monastery. That ceremony was about the purify the villages and the whole region of the Mustang. So there were a lot of people attending the ceremony. Slowly we continue to walk down to Kinja village and we had a cup of coffee and eat some biscuits.
Till Kinja there is a walking trail so we followed the walking trail. From Kinja we have to walk on the blacktop road. So we followed the road to Kagbeni. From above the Kagbeni, we took the trekking trail to Yekle Bhati. Yekle Bhati is the place where we have to eat lunch. So we stopped there for lunch and it took around an hour. After lunch, our journey to Jomsom continues on the dusty road with heavy wind. It took us two and a half hours to reach Jomsom. Today is our last day's itinerary of the ACT Trek. Hence, we celebrated our last day in Jomsom.
Day 11 Jomsom to Pokhara flight
Early in the morning, we walked to Jomsom airport for the check-in because our flight was at 6:30 am. Usually, for the domestic flight, we have to be one hour earlier that is what we did. After getting to the airport we followed all the procedures and went to the waiting room. However, the airplane finally arrived there at 6:45 AM and we got on the plane at 7 o'clock the morning. The flight to Pokhara was just 30 minutes from Jomsom.
After reaching Pokhara we drove to the Hotel. And then I said goodbye to the members because they have planned to spend a few days in Pokhara. After reaching Pokhara we drove to the Hotel. And then I said goodbye to the members because they have planned to spend a few days in Pokhara.
This Annapurna Circuit Trek Itinerary is based on how I did this trek recently. As I already mentioned, this trek can do in different ways and lengths. Although, the main theme of doing this trek is to enjoy the nature and culture of the Himalayan region of Nepal. And understand what is real trekking in Nepal. As a trekking Guide, I always love to be in the Himalayas of Nepal.