My daughter has a holiday from her school on the occasion of Yamari Purnima/ Udauli Parba/ Dhnya Purnima. As a nature lover, I decided to utilize her holiday by doing the Jamacho Gumba Hiking. It is a day hiking trail nearby Kathmandu Valley and comparatively shorter than Shivapuri Hiking. I have already done a couple of hiking with my daughter and today was our fourth hike together.
We planned to hike 8: at 30 AM in the morning but unfortunately, we are not able to start at that time. We started Jamacho Hiking at 9:15 AM from my home and we were at Phukbari Gate quarter to ten. After we went there we bought the tickets to the Shivapuri Nagarjuna National Park entry. The ticket cost 100 rupees for adults and my daughter got free entry.
Before we enter the National Park, the army at the gate checked our bags and there are not allowed to take certain items. Inside the national park such as speakers, drone cameras, knives, fire items, etc. After checking we entered the gate and followed the properly paved stone steps up to the jungle. From the beginning, the trail was a steep climb up, I thought that it may be very tough for 3 and a half years baby.
Surprisingly, she was quite strong and walked all the way to Jamacho Gumba. Definitely, she was slower but she continually walked so that we were not slower than other. We met many other hikers while going up, some of them are school students. Most of them are young and like to hike and all of them are very surprised to see us.
What we show while doing Jamacho Hiking
Perfect walking trails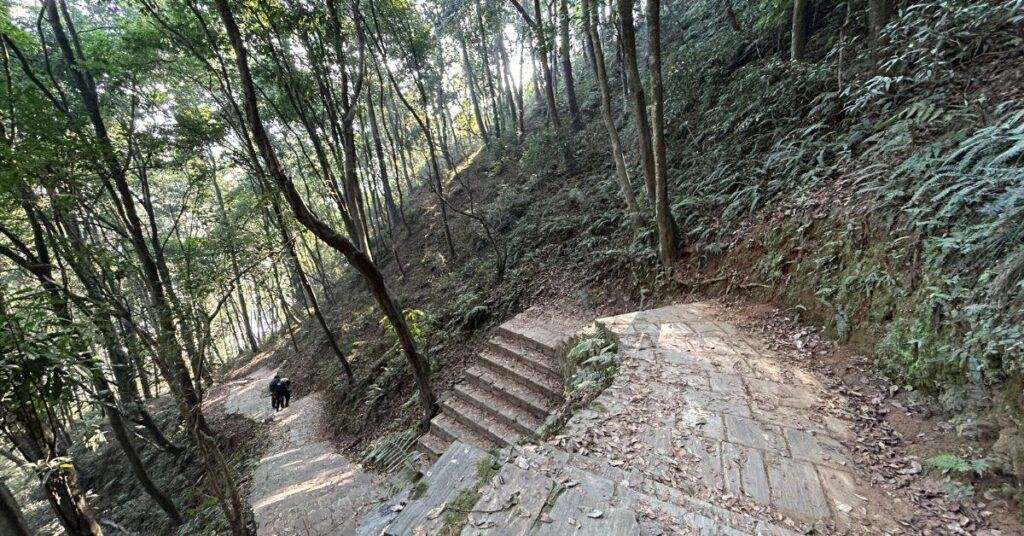 The trail to Jamacho Peak is well-managed, and there are pepper well-paved steps. Hence Jamacho hiking route is suitable for everyone. No need to worry even if you are hiking independently, but I don't recommend doing it. Along the way, there are signs which will show the way and tell the distance. It's not only a steep ascend, but there are also some flat trails as well and its total is around 9KM hiking trails.
The flora and fauna
Climbing up with 3 years running infant was not an easy task, but I found it very good as well. The reasons behind it were we got plenty of time to observe the surroundings. Besides the need to give full attention to the babe. So while we are climbing up to Jamacho Monastery we show various types of flora and fauna. Little birds, deer, white monkeys, red monkeys, various types of trees, and various types of mushrooms on the dried trees timbers.
We met not only ramblers also met pilgrims
During our hike to Jamacho Gumba we met many walkers but after we reached Jamacho we met another religious group. Jamacho hill and the monastery on top are exceptionally important Buddhist sites for the Buddhist community. Today was Dhanya Purnima ( Full moon day) the full moon day is very important in Buddhism. People are there to hang prayer flags and burn butter lamps to pray for their passed souls or relatives.
The outstanding Kathmandu Valley view.
We didn't show the Kathmandu Valley while climbing up because we walked into the jungle. Climbing continue and we reached a point where no trees but a resting spot, a grassy area, and some stones. From there we had our first glimpse of the Kathmandu Valley. After that, we enjoyed the breathtaking view of the Kathmandu Valley from the top of Jamacho Hill.
Stunning Mountain View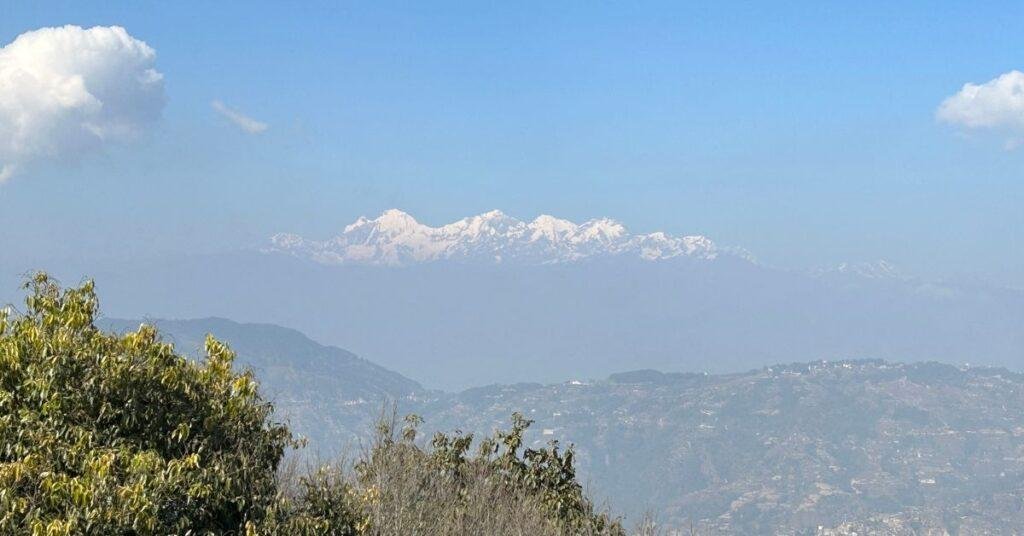 We were on top at 12:30 PM, when we were there we have the panoramic mountain view alongside the Kathmandu Valley view. The white peaks are looks so amazing on the left side but on the right flank, the view was not that nice. Because it was cloudy a bit, but still we show some snowy peaks. It was the first time I reveal such a mountain view when I did Jamacho Gumba Hiking.
Things we encountered On top of the Jamacho
On top of the Jamacho, many prayer flags are hanging and welcoming everyone there. A white-colored stupa in the middle of the hill and the little monastery and the statue the Guru Rimpoche. Seeing these all things felt very pure and refreshed, we also burnt butter lamps and hung prayer flags. This time surprisingly I show little shops on top there selling the most needed things for hikers. Like water, instant noodle, chatpate, etc.
Walk down from Jamacho
To reach Jamacho was fun and I was a bit afraid to go down with my daughter. Because I show that she was already tried to get up there. Before embarking on the down trail, I told my daughter to walk slowly and concisely. She listened to me and we descend slowly down and ultimately we made it.
Unfortunately, we show some students are very difficult to walk down. Even one young boy fell and broke his arm and he was crying a lot. I suggested their teacher give medicine to that boy who was suffering from pain. Similarly, many young kids are suffering from pain while going down.
I would like to give this message to all the parents, please make your child active. Not only send school and take them in vehicles to go everywhere. Try to walk with them somewhere some distance, which will make them a habit to walk. And they will walk when there is time ask them to walk.
The hiking route we follow to get to Jamacho Gumba
We took a microbus from Dallu to the Swyambhu Buddha park and then changes a bus to Machhapokhari Balaju. From there we start to walk on the blacktop road to reach Phulbari Gate. From Phulbari Gate we followed the trail to Jamacho Gumba. There are proper trails and well-marked signs to follow. It all depends on where you are traveling there.
The easy option is just to take a bus to Machhapokhari or Balaju Baiesdhara (22 taps). If you are traveling by private vehicle then go all the way to Phulbari Gate. Unfortunately, there is no parking space nearby the gate. So find a parking spot nearby.
If you want to explore Jamacho Hill and difficult to climb up and down then you can take your private vehicle as well. There is a road to Jamacho Gumba and further. And this hiking route is best for mountain bikers and offroad bikers as well.
Why you should do this hiking?
This is around 9KM hike and not very thought to accomplish. Hiking is the best medicine to kill your stress and anxiety. If you are a family person you should hike with all the family members. It will help you to understand each other well and extend your love to each other. Your kids will figure out what is nature and how it will work.
Jamacho Hiking is just a day hike and an easy hike so it will benefit you physically, mentally, and emotionally. So hike as much as possible.
Things that we took with us
As we planned a day before to do this hike my wife prepared some food to take with us. She boiled eggs, and chickpeas, and bought some chocolate, cookies, and chips. Besides that, we took 3 litter of water. Per person 1 litter and we carried water ourself. Also, we carried 1 litter of Coca-Cola. Our bag was around 5KG and each of us carried our little day bags. Of course, I carried the big bag hahaha.
If you plan to do Jamacho Hiking don't forget to take enough water because we have to buy 1 liter of water before we get down. Because there is no water source where you can refill the water.
"Thank you very much for reading my blog. Hope you enjoy it. If you think there is something more I could add please comment below. I am very happy to do that. And after reading my blog are you planning to take your kids for this hike?"