Mani Rimdu Festival is one of the auspicious festivals in the Khumbu region (Everest region). This festival will celebrate in three main monasteries such as Tengboche, Thame, and Chiwong. Mani Rimdu will celebrate for nineteen days and each day covers different events. Among these 19 days, three days are publicly open to everyone. And during these three days, people from the whole region and Lamas from all over Nepal l will visit Solukhumbu to attend this carnival.
Mani Rimdu Festival is an ancient celebration and it's celebrated because of Buddhism's victory over Bon. During the festival, monks will wear various types of fearsome masks and costumes. And perform different types of dance forms by showing how Buddhism overcame Bon. It's a celebration of the Tantric Master Guru Padmasambhava who is also known as Maha Guru Rimpoche. Mani Rimdu is one of the most important festivals celebrated in Sherpa villages around Mount Everest
The upcoming date of the Mani Rimdu Festival is November 8,9,10th of 2023.
The festival lasts for three days, beginning with an impressive ritual that involves hundreds of worshippers lighting butter lamps and sending them up into the sky in order to call upon Buddha Shakyamuni (the historical Buddha) for assistance during this time of need. The following day is dedicated entirely towards celebrating its founder's teachings through music and dance performances spread across Tengboche Monastery grounds as well as its surrounding villages where pilgrims gather on pilgrimage trips leading up from different places towards Mt Everest Base Camp itself!
The main attractions of the Mani Rindu Festival 
Sand Mandala
In the Buddhist community, the Mandala representative is the meditation tool. And it's a mixture of various knowledge and empowerment. Making a Mandala will take lots of time, effort, and manpower, especially the Sand Mandala. Joining the Mani Rimdu Festival trip will take you the observe the beautiful Sand Mandala created by the Monks of the Tengboche Monastery.
Wang (The blessing from Guru Rimpoche)
The wang is the first day for the public to join the celebration. It will perform on the full moon day of the 10th month as per the Tibetan calendar. As a blessing, the sacred Mani Rilwu (the sacred blessing pills) and Tshereel (the sacred pill for long life) will give to everyone who attends the Mani Rimdu Festival Celebration.
Various dance performances
On the occasion of the Mani Rimdu Festival, there will be various types of dance performances that can witness. This kind of dance form will be called Chham which only performs at the Mani Rimdu, such dance performances are very sacred. Such a dance will perform how the Buddhists overcome Bon step by step.
The fire Puja Known as Jinsak
The fire Puja will perform in the enclosure the day after the proms. This celebration is an offering to Agni (The fire God) and all the God and Goddesses of the Sand Mandala. Afterward, the sand mandala in the temple is pulled to pieces, and the sand is given as an offering to the serpent gods (Nagas).
Mani Rimdu Trip Itinerary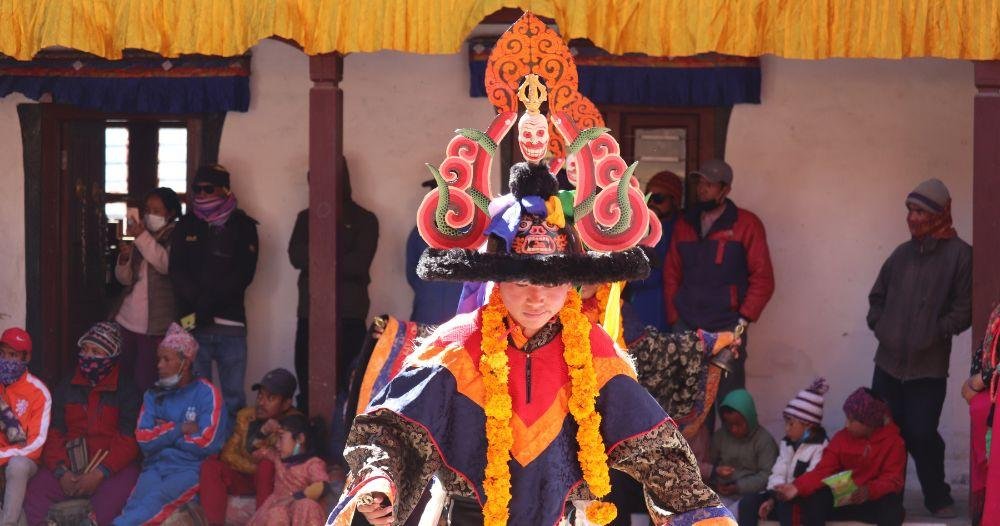 Mani Rimdu Festival will celebrate in different places in the Everest region. But the most popular ones are at Tengboche Monastery and Chiwang Monastery. Tengboche is in the Upper part of the Everest region which can combine with Everest Base Camp Trek. And Chiwang is in the lower part and can combine with Pikey Peak Trek. So the Mani Rimdu Festival Itineraries are as follows.
Mani Rimdu at Tengboche Monastery with EBC
| | | |
| --- | --- | --- |
| Day | Month/ Date | Itinerary |
| Day 1 | November 6 | Fly to Lukla and trek to Phakding |
| Day 2 | November 7 | Trek to Namche Bazar |
| Day 3 | November 8 | Trek to Tengboche and observe day one of Mani Rimdu |
| Day 4 | November 9 | On the second day of the festival |
| Day 5 | November 10 | On the third day of the festival |
| Day 6 | November 11 | Tengboche to Dingboche November |
| Day 7 | November 12 | Dingboche to Lobuche |
| Day 8 | November 13 | Lobuche to Gorekshep and EBC |
| Day 9 | November 14 | Hike to Kalapatter and trek to Pheriche |
| Day 10 | November 15 | Pheriche to Phortse |
| Day 11 | November 16 | Phorste to Khumjung Village |
| Day 12 | November 17 | Khumjung to Manju |
| Day 13 | November 18 | Manju to Lukla |
| Day 14 | November 19 | Fly back to Kathmandu |
This itinerary can customize to your time and wishes to visit places. If you don't want to go to Everest Base Camp, you can back to Namche and then Lukla. After Base Camp, if you do not want to explore Phortse and Khumjung you can follow the trail via Tengboche.
During the Mani Rimdu Celebration at Tengboche, there may be a shortage of accommodation. So that sometimes you might sleep in a tent or better to occupy a tent with you from Kathmandu.
Mani Rimdu Festival at Chiwang Monastery 
| | | |
| --- | --- | --- |
| Day 1 | November 4 | Drive to Dhap (2850m) from KTM, a 7-8 hrs drive & trek to Jhapre. |
| Day 2 | November 5 | Trek to Pikey Peak Base Camp (3640m) |
| Day 3 | November 6 | Trek to Loding (2515m) |
| Day 4 | November 7 | Trek to Junbesi (2700m). Also can visit Thupten Chholing Monastery |
| Day 5 | November 8 | Trek to Chiwong. First day of the festival |
| Day 6 | November 9 | On the second day of the festival |
| Day 7 | November 10 | Third or final day of the festival |
| Day 8 | November 11 | Trek to Salleri |
| Day 9 | November 12 | 9 Back to Kathmandu by jeep/bus (Flight available only on Monday and Friday) |
After completion of this excursion, if you have more time and want to explore more of the Everest region. Then you can continue your trip to Everest Base Camp via Nunthala, Surke, Phakding, Namche, Tengboche, Dingboche, and Lobuche. And flight back to Kathmandu from Lukla.
Why Mani Rimdu Festival Tour is a great trip? 
Mani Rimdu Trek is a combination of nature and culture of the Everest region. And this is the opportunity to witness both culture, tradition, and nature in one vacation. So, don't miss such a great chance if you are a nature and culture lover. You choose it either in a higher place or lower place anywhere you can have great memories of the Mani Rimdu celebration. You can make a holiday plan for a week to 15 days trek including the trek to Everest Base Camp.
If you want to stay below 4000m and enjoy the vibe of the Mani Rimdu then Chiwang Monastery is a great option. Also, the combination of the Peaky Peak Trek will add unbelievable remembrance. If and want to be in the lap of the world's highest peak and attend the Mani Rimdu celebration then Tengboche Monastery is perfect. That is why Mani Rimdu Festival Trek is the perfect tour for you.
I am a trekking guide, travel blogger, and trip organizer from Kathmandu Nepal. If you are looking for a great Mani Rimdu Festival experience you can contact me. I will guide and organize a perfect trip for you and your travel partners.